Are you curious about Chinese culture but you do not have any clue about where to start?
Would you like to learn about Chinese traditions without squeezing your brain and just having fun?

Then, this event is for you!

Come to learn how the traditional philosophy had influenced people's behavior and beliefs, by experiencing some of the most ancient and important art forms: music and calligraphy.

Explore the Peking Opera, with its dramatic stories sung since centuries ago and meanings behind those colorful masks.

Take advantage of all materials provided by Us and express your creativity by painting your own opera mask! 
You can also bring home festive paper decorations made by yourself.

If you are enough confident in your handicraft skill, then join Us and challenge yourself to make sweet and tasty Tangyuan, a traditional dessert which cannot miss in a such event, since it symbolizes unity and connection between people.

Meanwhile, light refreshments will be available in the hall, offering typical Chinese delicacies.


Looking forward to see you!! 

First 100 people that arrive will receive a special coupon from Chineat giving them the possibility to buy delicious Chinese delicacies!

When:
Friday 3rd May
6:00 pm

Where:
Chinese Cultural Center,
Via Paolo Sarpi, 26


Fees:
€ 10,00/person

Registration is required. Please click here to register.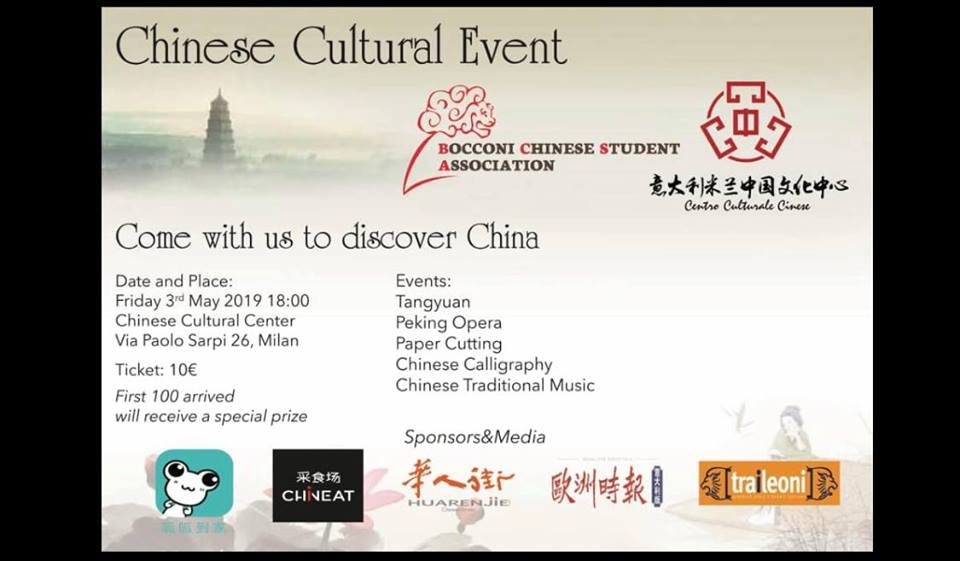 Some photos from the event: