Zoom is now one of the most used software for online meetings, lessons and calls with friends. At the end of 2019, there were on average 10 mln meetings per day, after the pandemic crisis the number grew up to
300 mln. Zoom was founded by Eric Yuan in 2011, one of the few Chinese entrepreneurs who succeed outside Asia.
At the time, big international companies were using Webex and general customers had Skype, Hangouts and Facetime, so how did he managed to enter a market in which there were already so many well-known
and established companies and platforms?
Eric Yuan has always paid attention to users' needs, that's why he introduced the beauty function, the blurred and personalized background and other technical improvements: reduction of the latency to 150 milliseconds, maintenance of the sound quality even when the connection was slow and poor as well as the possibility to join a meeting with a link accessible without any account. Eric Yuan decided to turn to SMEs, where there was the need to make video calls, even if less, and the simple and functional features of Zoom suited their needs perfectly. So it was that Eric Yuan soon brought Zoom into the market and reached more users through the word of mouth. Zoom reached 3 million users within one year and 10 million in two years, with a growth of 40% per month. A huge investment came soon and he started to focus on the promotion.
In 2019, finally, Zoom became a listed company. A year later, the video conferencing software had the largest market share (36%). As you can see in the graph, the stock in 2020 has undergone many variations. Starting from February, the pandemic has pushed many people to use this software and the share started to rise exponentially until October. They decreased slightly between March and April due to privacy and security problems: thousands of Zoom video calls were exposed on the open Web and have been hacked, leading many companies and users to change platforms. In September, instead, Trump signed the order to ban Tiktok and WeChat, influencing heavily Zoom. Toward the end of 2020, stocks fell again following vaccine advances.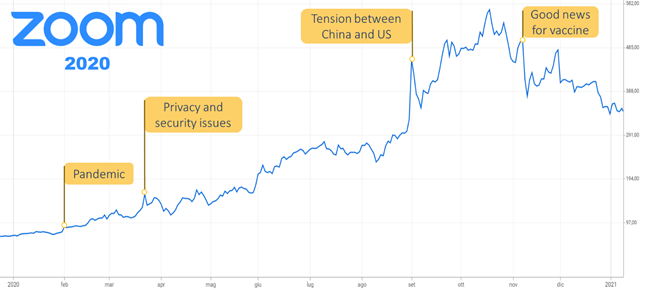 Credits to: Christine Yu